SHERAPY: Real Therapy With Sherry Amatenstein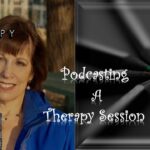 SHERAPY: Real Therapy With Sherry Amatenstein
https://www.prevention.com/life/a30567033/therapy-anti-semitism-reaction/?
What a Therapist Really Thinks When a Patient Says Something Offensive
As the daughter of Holocaust survivors, Sherry Amatenstein's approach to ignorance has evolved over time.

---
https://www.prevention.com/health/mental-health/a30299822/why-is-everyone-happier-than-me
Ask a Therapist: Why Does Everyone Else Seem Happier Than Me?
People often think that once they climb up to the Grand Summit where the Happiness flag is planted, they will no longer suffer from depression.
---
SHERAPY: Real Therapy With Sherry Amatenstein
Therapy Sessions – Raw and Real
Join in on the podcasts coming soon to newclevelandradio.net
Nearly 13 years after hanging out my shingle, I still feel immensely privileged to be a psychotherapist, to be allowed to witness and hold my clients' pain, fears, and pockets of deepest insecurities. When they feel safe enough to admit their most 'shameful' secret, my heart swells with pride. Expecting me to be repelled, perhaps to the point of ending our work together, they are shocked when instead I react with sorrow, saying, "You did something you regret. That doesn't make you evil, just human." With a whoosh they exhale eons of shame, shedding an albatross that has perhaps defined their life.
One inspiration for Sherapy is Esther Perel's fabulous Audible podcast: "Where Shall We Begin?"  Each episode is a one-time-only therapy session with a couple.
Each episode of my podcast will feature a therapy session with an individual. Ideally, subsequent episodes will follow three or four different patients, so listeners can track their progress. (None of the participants will be my private patients but volunteers for Sherapy.)
Perhaps the most potent inspiration for Sherapy is to de-mystify and de-stigmatize psychotherapy. Too many people in distress still suffer silently. The National Institute of Mental Health (NAMI) estimates nearly one in five people suffer from some sort of mental illness, yet only half of those seek help. Indeed, from 1999 to 2017 there was a 33% increase in suicides!
We need light on this, not shame and silence.
In my nearly 13 years of being a practicing psychotherapist I have seen the commonalities in humans: our relationship role models are our parents; we are waaay too influenced by our assumptions of what other people think about us;  our ego is often fragile as Kleenex; we think everyone else has the 'secret' to being happy and are ashamed (there's the shame thing again!) at feeling jealousy, anger, and other negative emotions.  But mostly our negativity is aimed our ourselves.
Just about my favorite thing in the world is helping patients learn to help themselves. Join me on the Sherapy journey!
Check All Podcasts: https://newclevelandradio.net/sherapy-with-sherry-amatenstein/
return to page: https://newclevelandradio.net/what-is-sherapy-and-who-is-sherry-amatenstein/

---
SHERAPY: Real Therapy With Sherry Amatenstein
Therapy Sessions – Raw and Real
Join in on the podcasts coming soon to newclevelandradio.net
So excited to be launching Sherapy: Podcasting a Therapy Session in January
Thank you for the opportunity Karen Moss Hale
And words can't express my gratitude to the magical Amy Ferris for the introduction!!