I CANNOT CONTINUE TO BE A VICTIM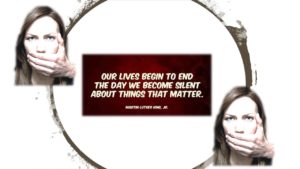 As some of you may know, when you do what you love to do, life is sweet.  However, sometimes we add a little flavor to our life that includes change.  This weekend I returned to Repping.  For those who may not know what that means, I am representing a product as a third-party vendor.  18 years ago, I took my first assignment for AT&T cellular, and I moved on to Epson Printers, as well as Disney Home Video, Microsoft, and many other tech products.  Today I began a new journey as the Saturday and Sunday Rep for Intel© at the BestBuy store where I started my journey.
I am now wearing many hats and still enjoying life as I returned from my first-day supporting sales and customers to do a podcast with comedian, Mike Polk, Jr. of Cleveland, and I am preparing to do another podcast with Marcus Ruggiero, a performer, and composer, a multi-talent man.  Also, I am still blogging, as well as being a mom, a wife and a friend to many.  (This is one of my personal blogs!)
I am not sure that I will remember today as a day of many positive pathways as I am saddened as well as furious with our elected officials for voting in Kavanaugh.  I am incredibly disappointed in the FBI for accepting to make a "hurry-up" inquiry, and I wonder if they genuinely did not find any evidence to the claims made against Kavanaugh.  It is true we all have some skeletons in our closets, no one has led a pure life, as someone recently told me G0D and Adam tempted Eve to take a bite of the apple, as well as the ASP in the GRASS.
I do believe that we should not be judged by one mistake, but one mistake can often turn into many others.  I think we must decide and protect ourselves from any possible harm that mistakes can make!
I have reached out and shared my story of being molested 29 years ago.  I have not shared the details as the records have been locked.  The perpetrator was found guilty.  As others learned of my claim they too came forward.  Moreover, despite the punishment he received, I still live with the thoughts, the feelings, and the shame that somehow, I participated or allowed this to happen to me.  I know I am the victim, I was not a participant by will, but doubts surface my brain as I grow more confident in my maturity.
As I said, I am not a perfect person, and I am sure I have said or possibly displayed unfavorable behavior.  However, I take ownership of my faults/differences, and I spend an intentional part of my days seeking to be the best me without destroying another person through lies and accusations.  I, like Dr. Ford and others that been victims, have the legal right to tell our stories (they are not fake news) and to resolve the pain.  Some victims are so ashamed they never express themselves in words and actions that will provide healing.  Also, there are others like Dr. Ford, who dared to be grilled publicly, on the record, and yet once again a hand was put over her mouth to muffle the truth!
I will continue to share because there are good people out there on both sides of the aisle. However, some of those people are victims themselves and chose not to do the right thing yesterday when voting for Kavanaugh.  Kavanaugh now represents every victims NIGHTMARE.
I pledge on November 6th to do my best to use my right to vote and eliminate as many of these individuals' men and women who chose to close their eyes, ears, and hearts to the truth!