#IMadeIt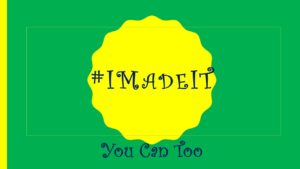 It's a great day here at newclevelandradio.net, Monday, November 6th, 2017.  Although NE Ohio got hit by some heavy winds and parts of the area lost power and trees were uprooted and homes and businesses sustained damage, for the most part, we are very blessed compared to other parts of the United States and our Global Neighbors.  We are transitioning into the Autumn / Winter season and winds, cold weather changes are bound to happen, but we are looking on the "Bright Side of Life."
If we only look at the doom and gloom, we will never pick ourselves up and live out our passions and dreams.  Today is a day to celebrate and remember those that were taken from us while they celebrated life at a church service in Texas on Sunday morning, or while riding a bike path in NYC this past week, doing what they loved doing without fear.  Yesterday, an American woman won the NY Marathon a dream she has had since a young child.  Shalane Flanaga, followed her dream, even after the fear and terror of running in the Boston Marathon, where others were killed, maimed, and the question that tragic day!  But Shalane ran yesterday for herself and for America, to keep our dreams alive, "if you will it, it is no dream."
Today we are not letting the bullies stop us from following our dreams and building newclevelandradio.net
When I was 18 years old I told my parents I (Karen Kiki Moss) wanted to be a communication major and they insisted I should be an education major.
In 2012 I completed my advanced degree in Communications and I have been podcasting and broadcasting for 5 plus following my dream!
When Alex was 13 years old he was told by a County Psychiatrist he would:
Never complete High School without assistance – He did with a 3.2 GPA
He would never go to college – He did he has his Bachelors of Applied Science in Business
He would end up living in a Half-way house, living the life of a maintenance main – Although he still lives at home (for financial reasons), he has a part-time marketing job, he owns his own internet radio station and has been a sports broadcaster for five-plus years, he is a blogger, an Anti-Bully Advocate, and he is now producing a documentary on the Autism Spectrum.
At 2 pm EST today we are introducing our newest show, a special thank you to Denise Zarrella, from channel 19 WOIO TV in Cleveland, Ohio for introducing us to an incredible young woman, our host, Lina.  Alex and Lina met on Monday, October 30th and it was met to be.  No, not a match made in heaven, it's not a Hallmark™ movie, but it's a connection of compassion and a mission to prove that the bullies of this world need help!  Alex and Lina have been the targets of bullies, so have I, but we are survivors.
Tune in, join the panel.  We encourage you that your dreams are real, and you deserve happiness too.
#IMadeIt