Who Is Joni Star?
http://mixlr.com/new-cleveland-radio/showreel/vista-springs-with-joni-and-frankie-star-7_10_18/
Joni Starr was born July 21, 1938, and first became exposed to music at her parochial school, being taught to play piano by the nuns there.  It was soon obvious that Joni had the gift of music and could play by ear.  As she grew older, she was drawn to the piano and music. She played professionally at various venues in the Cleveland area as well as playing with various groups.   She met FranBobey Sr., an accordion player playing with the Polka Dots .  They fell in love and got married and had two children , Rachelle and Frankie.   Their children also grew up with the love of music , playing the piano , drums , violin, organ, guitar and more.  Joni started Rachelle  playing piano at the age of five.  Rachelle and Joni would play classical duets at their home in Walton Hills.  It seemed there was something else, a different instrument love, in store for Frankie. When Frankie got older, it was apparent that he had a gift to share with others.  He was a prodigy of the guitar, particularly blues guitar.  Joni and Frankie first started out with Joni's country band and occasionally Rachelle would join in on drums when there was a need.  Later Frankie formed a blues band with Joni on the keys.  The gigs became so numerous, it became difficult for Joni to keep up, so Frankie's band became a trio, opening up for many greats such as BB King and Stevie Ray Vaughan.    All of the family enjoy watching fame grow.   Joni continues to play the piano and can play any song you can name, entirely by ear.  She also gave piano lessons to her grandkids, Christopher and Ryan.   The whole family now enjoys seeing mom play at her current residence of Vista Springs Assisted Living.  Frankie can be seen joining in for four hands often and you will see them surrounded by their family and friends there.   She loves sharing her gift with others and making others happy with the music she makes.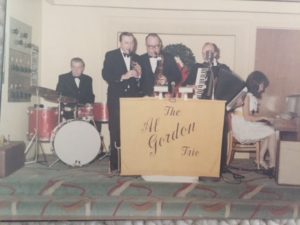 Joni Star playing with the Al Gordon Trio (Cleveland)

Joni as a mom also a music teacher


Joni with daughter Rachelle and baby son Frankie


Joni on a performing day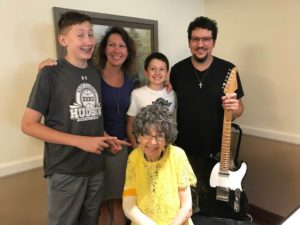 Joni Star (Resident and Pianist at Vista Springs in Macedonia) with her grandsons:  Christopher and Ryan, their mother Rachelle, and their uncle Frankie Star – a Star himself!