self
now browsing by category
Today I get to read about my mom here at Writers Conference – thank you so much Victoria Zackheim – and I want to share with you how I came to know that I had become the woman she always wanted to be.
It was the last time I saw her. She was in an Assisted Living facility; I now refer to our last visit: Assisted Loving.
I went to spend 10 days with her. I stayed at a hotel nearby, walking distance. Our visit was hard. Some days she was feisty and difficult and irritable, and on others she was tender and frail and gentle. Some days she had no idea who I was, one others I was her Amy; some days she was filled with rage and howling noises, other days she was silent and watching cartoons – her favorite. She wore a soiled nightgown and her hair, once coiffed weekly and curled, was now full on gray and stick straight.
She had once been a beauty – a beauty queen – she was now small and shrinking into her own skin; disappearing physically and emotionally.
I spent time down at the bar at the hotel I was staying at, and went back to my room. Undressed, washed up, got into bed, called Ken and chit-chatted for a while. In the middle of the night I got up to pee. I stopped at the full length mirror, and I looked at myself – full on – naked; and I saw myself: a woman who never had kids, a woman who followed her heart even when her heart was cracked & chipped & yes, broken; a woman who was feisty and crazy-ass and yes, often testy and impatient; a woman who went for her dreams and never gave up even when it felt wholly fucking impossible, a woman who chose a creative path – writing; a woman who chose unconventional and rebellious and shaky as her foundation; and as I stood there looking at my body – a body that was slender but not tight, a body that was strong but not muscular, a body that had so many hidden scars that had turned into stardust, and I knew in that moment, in that hotel, in front of that mirror that I had become the woman my mother always wanted to be.
And in that moment, in that hotel, in front of that mirror I let go of much of the anger & much of the disappointment & much of the bitterness I held onto for so very long and replaced that with a profound appreciation that she – a woman who gave up all of her dreams of being an artist and all of her hopes of living a creative life and her desire to be unconventional – that she brought me into this world.
***Thank you Amy for these beautiful words.  They reflect so much that is in my heart about my own momma!"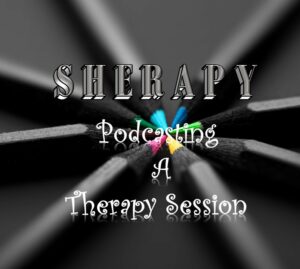 I am so proud and excited to be introducing you to a new podcaster who will begin with us in January 2020. Her name is Sherry Amatenstein, LCSW, who is an NYC-based psychotherapist and author. Sherry will be creating SHERAPY, and you can read all about this right here on the website. 
In keeping with the theme of awareness and finding the path to travel or detour in life, this nationally known psychotherapist will be sharing your stories with our listeners. Sometimes it is easier to be anonymous (faceless, nameless) when you begin to open up. I agree with Sherry; we must not be afraid of what we think our frailties are; instead, we must strengthen our inner selves to love life to the fullest.
If you have a story or want to share issues, please contact us here at newclevelandradio.net, and your information will be sent on to Sherry Amatenstein. You need not reveal any information to us other than a name and email so Sherry may connect with you.
2020 is going to be a big year for all of us at newclevelandradio.net, and you don't need to be in Cleveland, Ohio, to become part of the big picture, your PORTRAIT!